Opinion
How Fashion Businesses Can Inspire Climate Action
On Earth Day, we ask if the fashion industry could be the key to making sustainability something that all businesses aspire to and make a real difference to the environmental crisis we are all facing.
Key Takeaways
Fast fashion is a huge environmental issue, particularly with the use of synthetic fibres

By its very nature, fashion can have a massive influence on consumers' attitudes, including to climate change

Sustainability is big business for those who are doing it well, such as fashion brands Reformation and Allbirds
From the outside, fashion can seem a rather frivolous industry. But the business of fashion is huge - both in terms of its economic value and environmental impact.

The fashion industry is valued at about $2 trillion per year - that's about the same size as the GDP of Russia. It has huge, complex supply chains that span the globe several times over just to make a single garment. Translate that into environmental impact and, if fashion were a country, it would be the fourth largest CO2 emitter in the world.
As an industry that employs 1 in 8 people globally - what role does it play, and what responsibility does it hold, in ensuring that business works to support our planet and its people to thrive, not die?
We now consume over 100 billion items of clothing every year. For a global population of over 7 billion, that's around 14 items of clothing per person per year.
If we look at the two largest consumer markets - China and the US - the average per person is double or triple that. A US consumer currently buys, on average, one new item of clothing per week.
So how did we get from Adam and Eve's very carbon-modest fig leaf – to this?
This incredible rise in consumption levels mirrors exactly the increase in fast fashion. The pace of the industry today is lightning fast, with some stores dropping new products in store or online every week or even every day. While at the luxury end, designers are suffering from burnout due to the high demands of producing entire new collections every month or two.
This has huge environmental impacts at every stage of a garment's life. From the drain on natural resources, to the pollution caused by production and shipping, and then the waste that builds up in landfill or gets incinerated.
In particular, the increase in use of synthetic fibres has grown from 20% in the early 2000s to now making up 65% of all fibre used in clothing.
Petro-chemical, synthetic fibres emit nearly 3 times more carbon than cotton during production, release harmful microplastics into our waterways and food, and take hundreds of years to decompose in landfill whilst continuing to release CO2 into the atmosphere.
If the fashion industry doesn't take its responsibility towards climate change seriously, it could hold the world back from staying well below 2 degrees, let alone having a chance at staying below 1.5.
What role are governments playing in driving change?
Some progress has occurred at government level. In the UK, the Climate Change Act 2008 commits businesses to an 80% reduction on emissions compared to a baseline set in 1990.
Ten years on, the UK's CO2 emissions have fallen a pretty impressive 43%, largely due to a switch to green energy. In 2017, for the first time, the majority of the country's power came from renewable sources.
However at a global scale, the IPCC reports that emissions are increasing – by 1.5 percent in 2017 and likely more in 2018. Due to fashion's extremely global nature, even if UK fashion companies can reduce their carbon emissions at home, they are not currently held accountable for the environmental impacts of their supply chains overseas.
Other, more positive, developments at the government level include the inquiry launched by the UK's Environmental Audit Committee into the impact of the fashion industry on the environment.
Led by Mary Creagh MP, the ambition for this inquiry is for the fashion industry to "remodel itself to be both thriving and sustainable."
In the final report published by the EAC in early 2019, key recommendations included:
a new Extended Producer Responsibility (EPR) scheme to reduce textile waste (predicted to increase by 13% by 2021) by implementing a one penny charge per garment on producers;
that the government should work with industry to trace the source of raw material in garments to tackle social and environmental abuses in their supply chains; and
that all major high street retailers should be members of SCAP, committing them to a 15% reduction in carbon and water use, and a 3.5% reduction in waste, by 2020 compared to 2012's figures.
Is that enough? What role can fashion businesses play?
Unless regulation can move at a much swifter pace than its reputation predicts, it may not be enough to beat the race against the climate change clock.
However, fashion with its influence and power - if it can muster the will – is in a position to lead inspiring climate action. As one of the world's largest industries and biggest contributors to pollution – changing the direction of the apparel industry juggernaut could have a significant impact on our planet's future. And cross-industry learnings could accelerate much needed innovation.
Making sustainability sexy
CO Leader, Reformation, is setting the standard for climate conscious fashion brands of the future. Climate neutral since 2015, the company prides itself on 'bribing' its young 20-something customers with a $100 voucher to switch to green energy.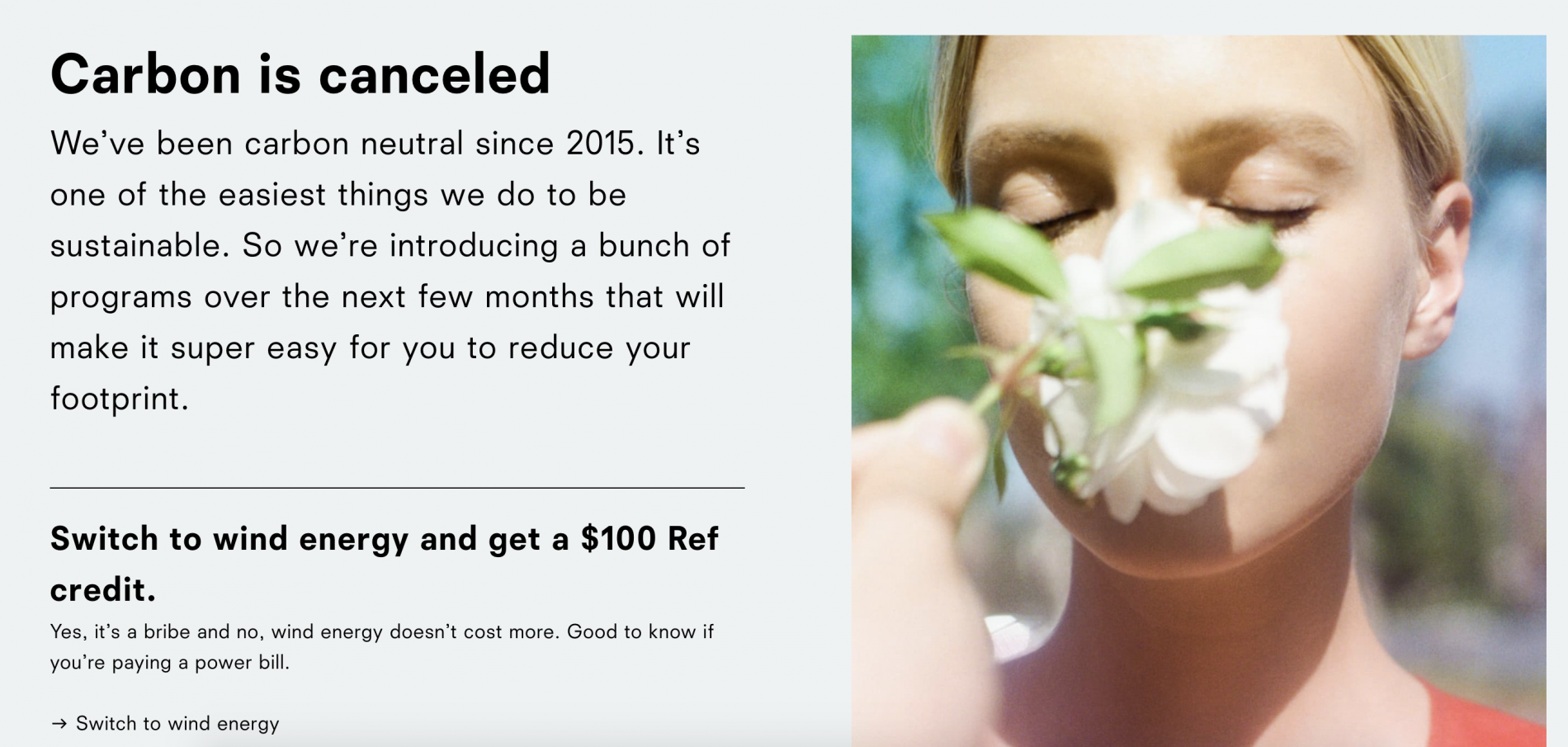 And dull sustainability reporting is a thing of the past – if we want consumers to understand the important environmental impacts of their choices, overwhelming numbers and scientific jargon is no way to engage. Reformation's 'sexy math' presents their impacts in a digestible, if not inspiring, way – something other industries could learn much from.
For Reformation, it's paying off. Founded in 2009, it turned over $100 million 8 years later in 2017 – a formidable growth curve for a fashion brand in a highly competitive industry.
Marketing ideas is almost certainly the thing the fashion industry knows better than any other. Whether we like to admit it or not, we can be enticed to do and wear almost anything in the name of fashion – as Meryl Streep reminds us, no one is immune to its power.
If fashion can use its voice to influence the buyers of its 100 billion garments, we might have a shot at creating a real movement for climate change. Thankfully with influencers like Emma Watson and Meghan Markle stepping up – we might not be far away from industry-wide collaboration towards sexy sustainability.
Design for innovation and disruption
Design is inherently a process of problem solving. American political scientist, Herb Simon, says "Everyone designs who devises courses of action aimed at changing the existing situations into preferred ones."
Fashion, with its obsession for beauty and innovation, is well-placed to design the world out of its climate change problem.
Unicorn footwear brand du jour, Allbirds, is presently valued at $1.4 billion. By approaching their business with an attitude of rejecting the status quo, founders Joey Zillwinger and Tim Brown are using sustainable design to drive their impressive commercial success. Allbirds have become the status symbol of Silicon Valley tech stars, bringing sustainability to the masses and elevating the use of natural and new innovative materials.
Like Reformation, being ahead of the curve is leading to significant commercial success – creating the incentive for other footwear brands to follow suit to try and capture this growing conscious consumer market.
Design doesn't just apply to product – but to business models as well. Rent the Runway has successfully introduced and scaled clothing rental to the point now that similar start-ups are popping up almost every week around the globe to get in on this new form of consumption – that not only allows people to satiate their desire for something new but also reduces the 82 pounds of clothing women throw away each year.
Incentivising sustainability
All of this is why we launched Common Objective in May 2018. A sourcing and information network that rewards sustainability, CO is the must-have tool that everyone working in fashion can use to build successful, sustainable businesses. (If you work in the fashion industry join for free now.)
By equipping fashion professionals with the answers they're looking for, and inspiring them with the possibilities of design and innovation – we are uniting the industry under a common objective of business for good.
Positive social and environmental change will take bold and aspirational leadership. Perhaps a few swanky fashion parties and innovative couture is just what we need.
22 April 2019
Author
Notices from our PRO members
Opportunities • 2 weeks ago
The Small but Perfect Circle
Join the SBP Circle to connect with project partners, SMEs, professionals and various stakeholders from around the world working in sustainable fashion.