Fibres & Fabrics
Masterclass: Sourcing Sustainable Cotton
Each Masterclass in our series takes a deep dive into a pressing sustainability topic, providing an overview of the solutions on offer as well as talking to business leaders to find out how they overcame the challenges in their business.
In this masterclass we take a closer look at sustainable cotton. We run through the key certifications on offer and highlight the relevant articles, reports and tools available on Common Objective, such as our 3 Free Tools To Help Your Source Sustainable Cotton to help your journey to sourcing sustainable cotton and sustainable alternatives.
We then speak to our special guests Jenny Hulme, head of buying and Ruth Valiant, senior garment technologist from People Tree - the award winning sustainable and fair trade womenswear fashion brand.
In this conversation with Jenny and Ruth we learn about the sustainable womenswear brand's use of organic and Fairtrade cotton, which is integral to their business; why they feel using certified sustainable cotton is important and the practical steps required to work with GOTS certified organic and Fairtrade cotton.
We discuss...
Certification documentation
What certifications are needed and what exactly are transaction certificates?
GOTS requires transaction certificates at each stage of the cotton manufacturing process from the seed used to grow the cotton through to the ginners and spinners. If it doesn't have a transaction certificate it is not GOTS.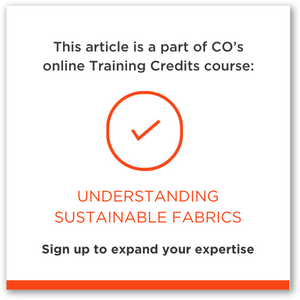 "People Tree will ask for a transaction certificate for each shipment of GOTS cotton products. It is issued by the GOTS certifier of the producer and lists the products, the shipment and buyer's details and declares the GOTS certification status. And the producer will also get a fabric transaction certificate from the people who make the fabric...so everyone has a transaction certificate as it goes through the [supply] chain."
Resources required to manage certified cotton
You need people! People Tree employs Ruth for this reason. GOTS requires a report once a year and Fairtrade every 3 months. You also have to have a GOTS audit and a WFTO audit for fair trade. "We spend a lot of time managing the supply chain and making sure we feel totally comfortable with the ethics of that supply chain".
"Everyone in People Tree is involved in ensuring that we have these certifications from Ruth and myself working with the certifying bodies, our merchandising team has to produce sales reports to the certifying bodies on how much we're selling and our finance team are involved in the financial aspects of that, so as a business everyone has to be onboard with the process."
Fabric quality and handle limitations
If organic cotton fabric is really soft it has probably been achieved through a chemical finish. It is worth noting that with GOTS you can only use mechanical, not chemical finishes.
As a business they have looked at sourcing a super fine gauge cotton but not found it available in a GOTS certified quality from their supply chain in a fine enough staple length. So that has restricted what they can do in terms of product design. That is something they would always strive to find a solution for but not necessarily been able to thus far so they have to design the range around that.
What the fabric development process looks like
The fabric development part of the process is much more time consuming than the sampling. Jenny works very closely with their designers and with the technical team. They in turn work very closely with their producer partners to develop new handles.
They can now get different weights and qualities that they couldn't get 10 years ago. And they are sure that in the next 2-5 years there will be much more variety of fabrics available on the market.
Buying considerations
If a product is selling really well they cannot always just source the fabric to top up. So it involves a lot more forward planning than a buyer from a fast fashion brand would have to do.
They buy in stock fabrics of their core fabrics but there are problems around storage as fabric can get damaged or go missing. So there are frustrations around that but it doesn't mean that they want to compromise it. They work with small suppliers, some of which require 20% forward payments to help with the purchasing of raw materials.
Communicating the benefits of sustainable cotton to customers
"We want to be honest and open with our customers so we put a lot of information on our website, email shots and social media...the customers are really interested and engaged so there are lots of ways to talk with them. It's a real advantage actually to be able to tell the story of the products as part of the marketing"
"Some of our customers are incredibly well educated and informed about sustainability so we love to be able to talk to them in detail about the garment."
Header image: People Tree
Download the Masterclass Manual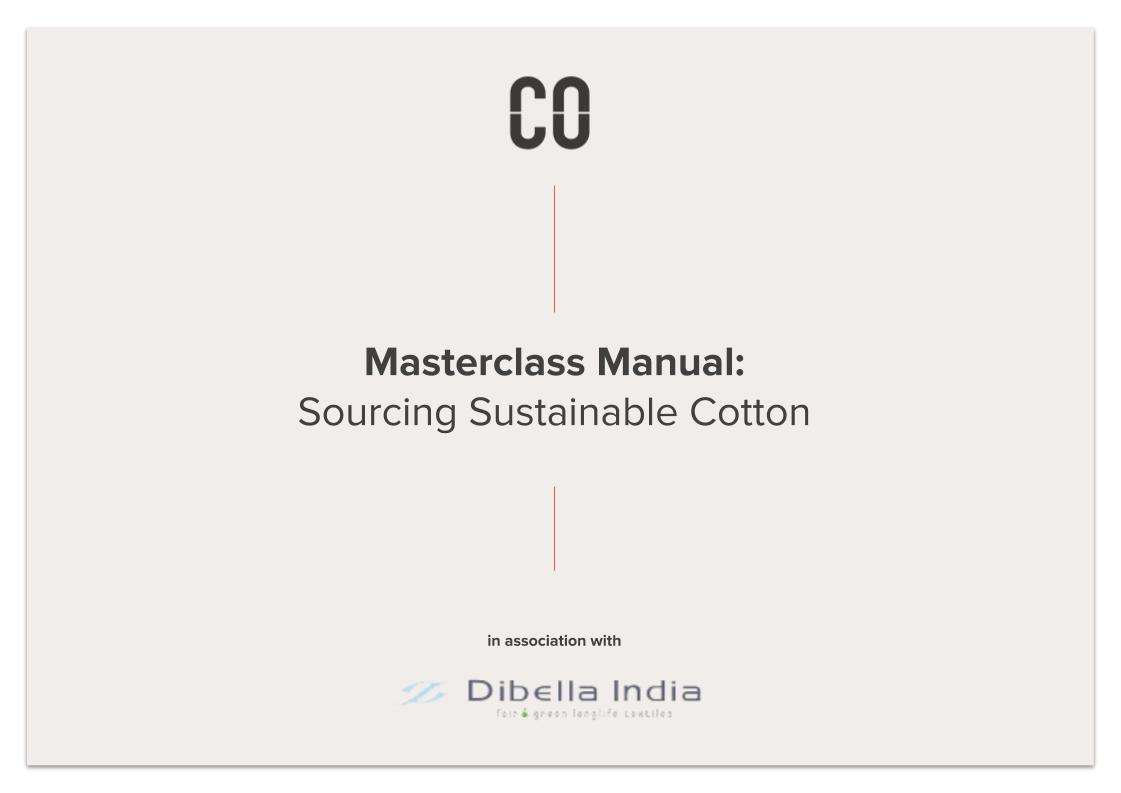 ---
This masterclass took place on 13th November in partnership with Dibella India, a sustainable apparel manufacturer based in Bangalore, India. Founded by Sreeranga Rajan former Head of Cotton at Fairtrade. Dibella India really puts the farmers at the heart of what they do. Working with cotton farmers at Chetna Organic co-operative, Sreeranga has worked to build up a strong supply network of mills, dye houses and weaving mills and has just opened another factor.
18 November 2019
Author
Made possible by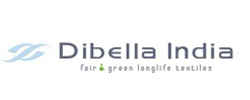 Download
Download CO's curated masterclass manual which pulls together key facts and figures, market data, and a list of relevant suppliers on CO.