Working With Artisans
MADE51 Wholesale Collections
Browse MADE51 wholesale and special collections and find out how you can work with MADE51 including lead times, minimum order quantities and more.
MADE51 is a brand of refugee made products launched by UNHCR, the UN Refugee Agency, a global organisation dedicated to saving lives, protecting rights and building a better future for refugees, forcibly displaced communities and stateless people.
Each MADE51 product that reaches consumer hands plays a part in enabling refugees to contribute to their host country's economy and strengthens their ties with local society. MADE51 products incorporate unique artisan skills, from weaving to beadwork, embroidery, crochet, leather work and more.
The MADE51 brand is owned by UN High Commission for Refugees (UNHCR), and delivered in a strategic partnership approach including the World Fair Trade Organisation (WFTO), and the local social enterprises themselves. This means that MADE51 products are made to the highest ethical, Fair Trade, and quality standards. All products are sourced through vetted, reliable enterprises.

Browse MADE51 wholesale product catalogues below.
To order, email the Made51 team. See further details on lead times and minimum order quantities below.
Interested in creating your own collections with MADE51? Get in touch to discuss your ideas or find out more.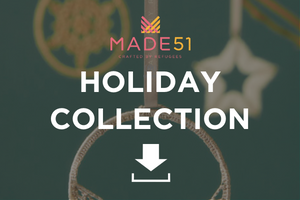 1. Holiday Collection
24 exquisite ornaments, handcrafted worldwide in 15 different countries, that showcase the talent of refugee artisans. Each ornament has a special meaning and comes beautifully packaged, perfect for the festive season. Download order form here.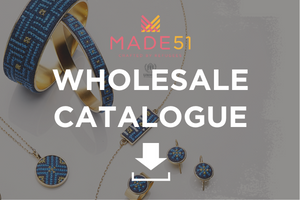 2. MADE51 Promotional Range
A wide range of beautiful, refugee-made products that includes home decor, accessories, jewelry, dolls and gifts. You can order directly from our partners or contact us for order consolidation.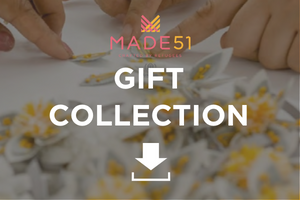 3. #WithRefugees Collection
#WithRefugees product range - perfect for gifting or retail events with a strong connection to UNHCR. These items are ideally positioned to be offered with messaging about solidarity with refugees and forcibly displaced persons across the world.
Sourcing details
Minimum order quantities (MOQ) vary dependent upon the product. Generally MOQs start at 200 pieces, however, for products in stock in fulfilment centres there is some flexibity on this minimum.
Bulk orders can be made at a 15-20 percent discount through the MADE51 online shop for orders of 500+ USD.
Wholesale prices are lower for products ordered direct from Local Social Enterprises partners from country of origin, however MADE51 is happy to consolidate your order through our commercial partner- this works best for larger orders of 1000-3000+ USD.
Lead times vary dependent upon the product - however with fulfillment centres in the UK, Europe, Hong Kong, and the US, and particularly if products are held in stock, products can be delivered quickly.
To order, email the Made51 team.
Questions? Get in touch to find out more.
---
Visit the MADE51 Hub on CO for more information
---
Header image: MADE51