Innovation & Trends
2018: The Year Fashion Got Serious About Sustainability
2018 was a landmark year for sustainability in fashion. View and share this infographic of key highlights from the year - demonstrating progress towards a better industry for all.
In 2017, Vogue deemed it the year sustainability got sexy.
If that's the case, 2018 shall be remembered as the year more fashion businesses started taking it seriously.
It's become a global conversation.
From the Houses of Parliament to the United Nations, the world's leaders are taking notice and demanding for the industry to follow suit.
It's a conversation that's powered by data.
From the Pulse report proving sustainability is profitable, to the IPCC Report quantifying the urgent need for climate change, the widespread impact of the fashion industry has been taken mainstream.
It's a conversation driven by the community.
Fashion Revolution Week gathered over 720m impressions, and the Meghan Markle effect boosted demand for sustainable brands, proving how much power lays in the hands of consumers.
And, it's a conversation our 10,000 users will continue.
We're incredibly excited to continue to leverage the power of community, technology and collaboration to take sustainability to scale throughout 2019.
Thank you for joining us on this journey. Enjoy our summary of 2018's progress below and scroll to the bottom for links to referenced reports and figures within the infographic.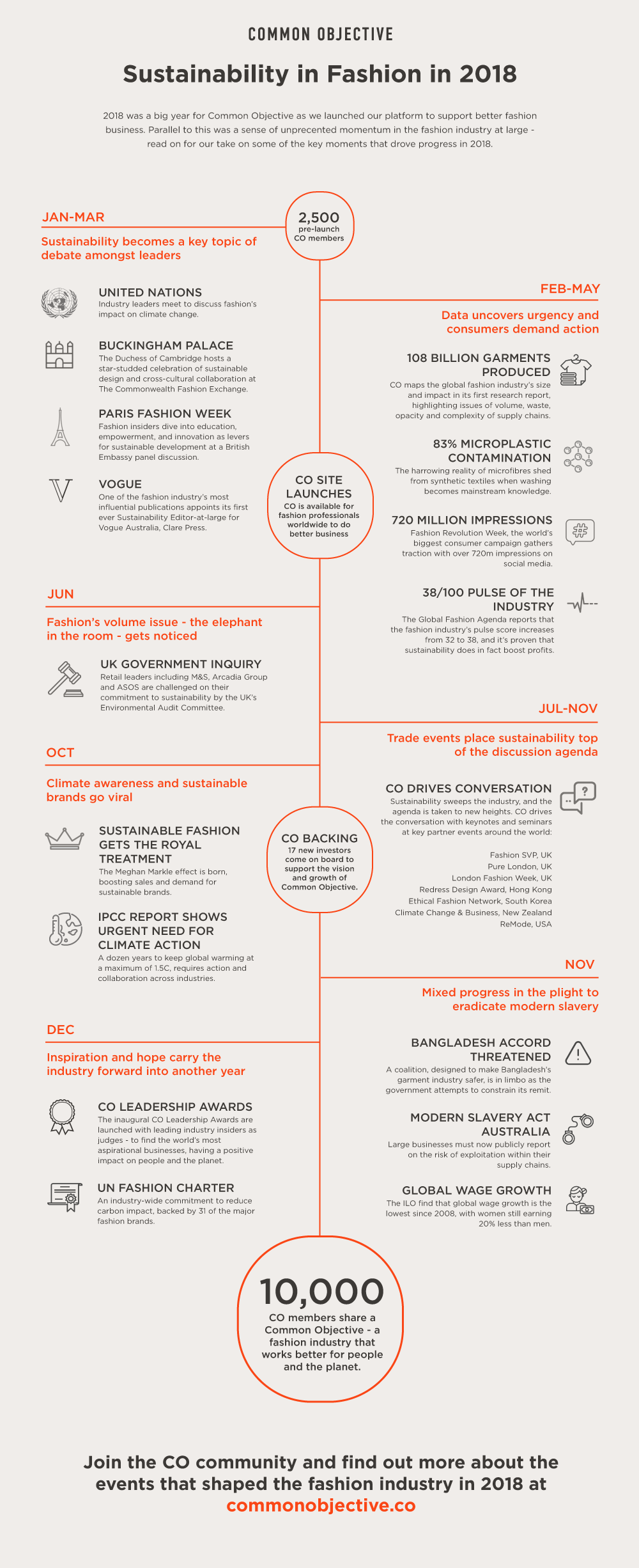 References
Jan-Mar: Sustainability becomes a key topic of debate amongst leaders:
Feb-May: Data uncovers urgency, and consumers demand action

June: Fashion's volume issue - the elephant in the room - gets noticed.

Jul-Nov: Trade events place sustainability top of the discussion agenda

Nov: Mixed progress in the plight to eradicate modern slavery

Dec: Inspiration and hope carry the industry forward into another year