CO Help Guide
How A Manufacturer Used CO To Triple Business Enquiries
Visible Clothing's MD Andy Showell-Rogers shares insights into the challenges their business faces as they scale up, and how their PRO subscription is one of the key ways it is overcoming them.
Visible Clothing is a garment manufacturer based in the UK, USA, and India.
Andy Showell-Rogers and Andy Lower, co-founders and Managing Directors of the UK and USA respectively, acquired a factory in India three and a half years ago and started running their vertically-integrated brand, Eternal Creation.
Two years later, Andy and Andy diversified into manufacturing garments for external brands, and with over 40 people now working for them, they are fast becoming experts in sustainable production.
About the business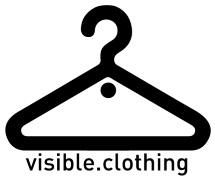 Their name - Visible Clothing - not only reflects the story behind the brand, a response to the Rana Plaza tragedy, but also is indicative of how they intend to run their business.
"We want to make it all visible. We want to make it all transparent. Having control of our factory makes that possible. On the environmental side of the puzzle - we work hard to run a zero waste manufacturing centre - any offcuts get utilised into a product that customers can use, even down to the smallest pieces of cotton get turned into pulp that's used in notebooks we sell. On the social side of it, we control our own factory, which means we know what is going on and our fair trade committee help us make sure it's run exactly in line with how we would want to be treated."
The challenge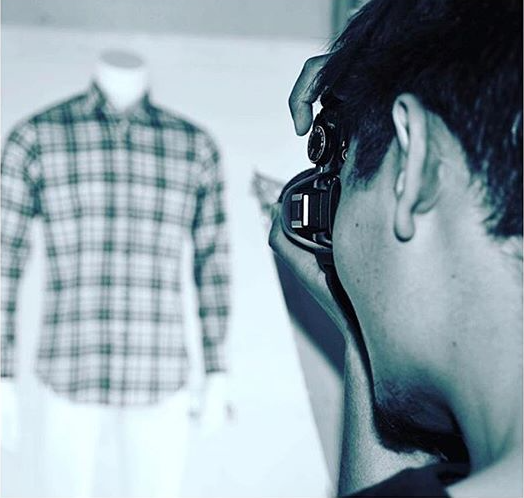 Having amassed a solid client base across three continents - successfully growing and diversifying their customer base to include a mix of start-ups, and larger established retailers - Visible Clothing is now at a stage where they're ready to invest in growth.
"We're currently at a stage where we constantly need new business. Given that we also supply fabrics for 75% of our clients, we're also very keen to grow the number of fabric suppliers we work with. It's all about partnering with others who want to do it differently."
This presents two immediate challenges for Andy and the team if they are to achieve their growth ambitions:
The need to have a consistent stream of new business in their sales pipeline

The need to source more fabric suppliers
And the solutions to these challenges need to be ones that align with Visible's business values - a component of their business strategy that Andy isn't willing to compromise on.
"We made some decisions in the early days that cost us a lot because we were focusing on treating people fairly, but ultimately they were the right things to do. We're not going to compromise on our ethics and sustainability - our values are at the core of mission. It's not even an internal conversation for us."
The solutions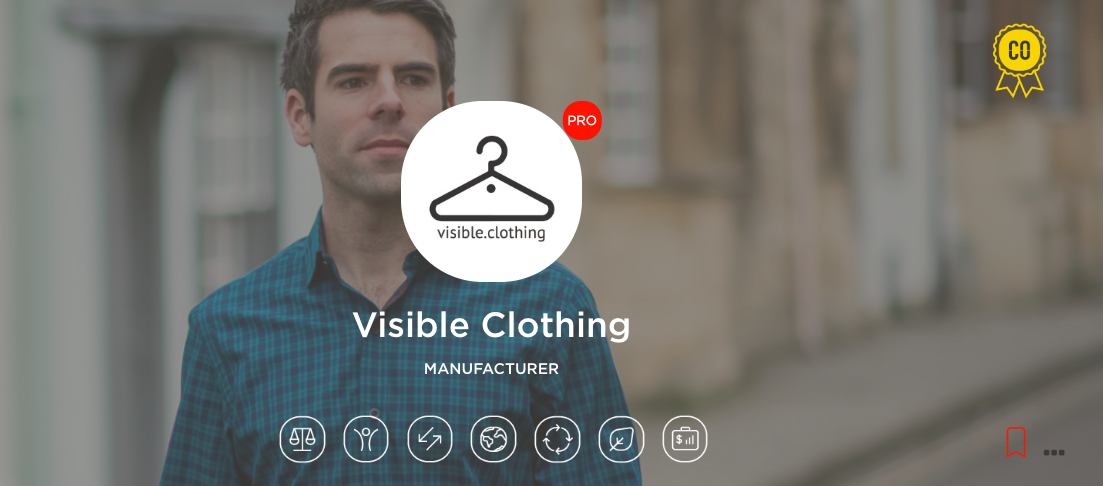 Finding more clients through CO and word of mouth
When it comes to sales, Andy highlights that his team have two tried-and-tested sales channels that he believes can scale effectively enough to take Visible to the next level of growth:
"The first is word of mouth. Our product is one of our most effective sales channels. As people see the quality and learn that we deliver on time and to a high standard, we get more inbound leads. It also enables us to get noticed by larger and more established brands."
"The second, is CO. A lot of our enquiries actually come through CO - we've tripled the number of enquiries we receive, as a result of having a business profile".
Visible Clothing has a PRO subscription, meaning that it is able to maximise the results it gets from having a presence on CO.
Business PRO users are able to add up to 20 supporting images/videos, get additional banner space on their profile, post notices and can hyperlink back to their website.
Visible also uses Fairtrade certified cotton, and this certification gives it a boost in CO's search rankings, boosting its visibility to brands and designers.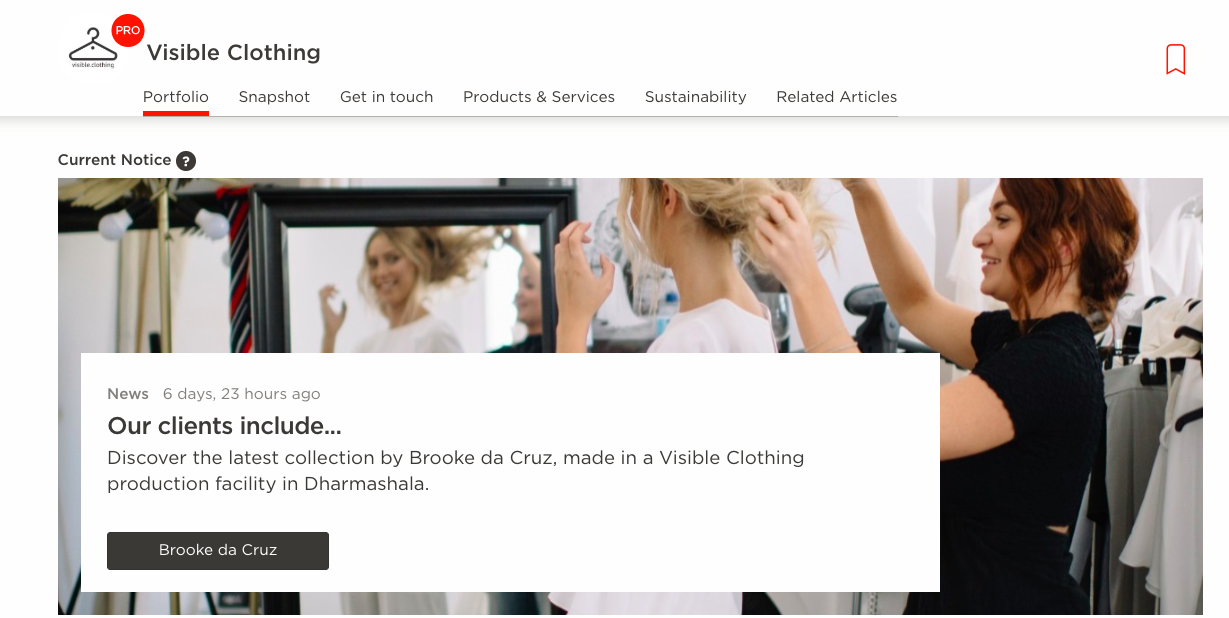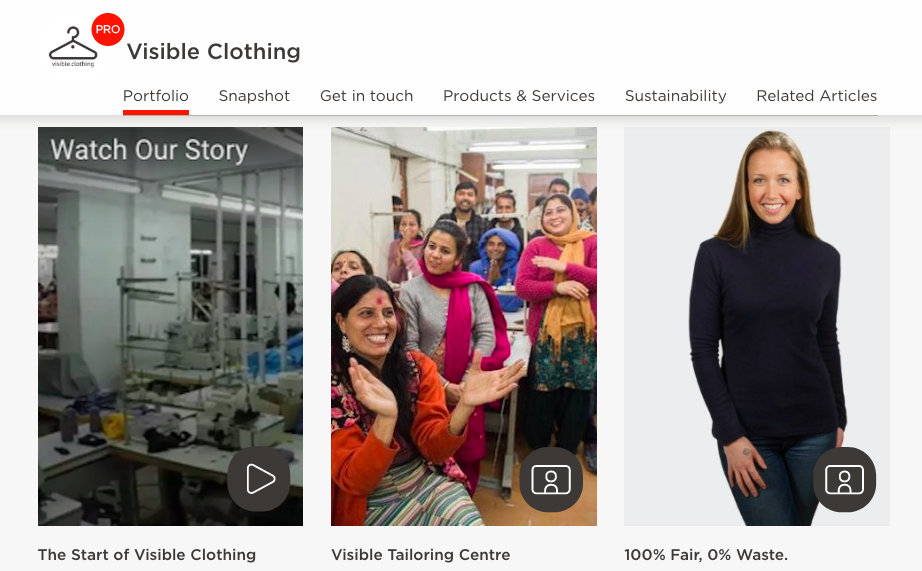 Sourcing more fabric suppliers using CO connections
For Visible, the crux of the sustainable sourcing challenge lies in the diversity of fabrics that it needs to source to satisfy requests from brands.
"Every brand has slightly different requirements in terms of what fabrics it wants. As a result, we're constantly looking to develop new relationships with different suppliers."
Andy uses the unlimited connection requests he receives as part of a Business PRO subscription, to reach out to new suppliers and see if they're interested in a partnership.
"I had a call yesterday with a supplier that I had heard of through the grapevine, but we hadn't the chance to meet. We eventually connected through CO and fortunately they were all about trying to do the right thing environmentally and socially."
To support the process of outreaching to sustainable suppliers, CO developed a series of Fabric Switch Guides. Available to all PRO members, Fabric Switch looks at the most popular fabrics, as well as trims and thread, and gives information on more sustainable alternatives, as well as connecting you with the specific suppliers who stock them.
Andy's advice to growing brands
Visible Clothing's services are in high demand, and whilst Andy has an inspiring passion to work with every values-driven brand that approaches him whatever their size, natural trade-offs in time and resources require him to prioritise.
"Visible is quite unique in our positioning because we have no MOQs. As a result, we attract a lot of people who are starting out, and who are fairly inexperienced. I want to help the startup brands get going - but to do so, we need to be able to receive high-quality propositions."
When filtering through the increased enquiries, Andy specifically looks for brands that are well-prepared, and have a robust knowledge of their designs and their values. His top three tips?
The smaller the brand, the more flexible it should be when it comes to fabric - the industry is not set up for tiny orders of incredibly specific fabrics.

Be clear in your mind what the design is. If you reach out to a supplier without clear sketches and tech packs it will only delay the process and reduce the likelihood of them returning your call.

Know what is important to you as a business, and where you're willing to invest the most money. Are you willing to pay more for quality or striving for the cheapest thing possible? If you know this up front, this makes early discussions with suppliers significantly smoother.
24 June 2019
Author
Notices from our Pro members
Jobs • 3 weeks, 4 days ago
We're recruiting!
We are looking for a freelance, associate consultant to join the team at V&V to support and/or lead sustainability projects with our clothing brand clients